ASSESSMENTS
Trigon Executive Assessment Center offers several Assessment Tools used in the Coaching and Consulting process that are designed to help you and your organization Discover Greatness!
Click here to view all sample assessment reports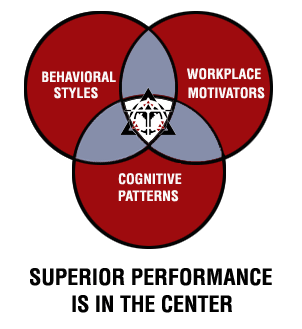 ---
TTI Success Insights TM (Behavioral Style)
This assessment analyzes behavioral style; that is, HOW people do things,
HOW they act, HOW they respond to their environment.
The report measures 4 dimensions of normal behavior:
How you respond to problems and challenges.
How you influence and interact with other people.
How you respond to the pace of your environment.
How you respond to rules and procedures set by others.
This assessment is available in numerous versions including:
- Executive Version
- Management-Staff TM Version
- Sales Version TM
- Team Building TM Version
- Time P.L.U.S. TM Version
- Customer Service Version
- Interviewing Insights TM Version (General)

- Interviewing Insights TM Version (Sales)
- Communicating With Style TM
- Family Relationships TM
- Family Relationships TM - Yough Adult
- Career Planning Insights TM
- TTI Relationship Insights TM
Sample Behavioral Style Reports
---
TTI Success Insights TM Workplace Motivators TM (PIAV)

This assessment analyzes a person's Motivators; that is, the WHY of people's actions; what is is that is driving a person's life. The 6 categories of Motivators include:
Utilitarian - Drive for Money
Theoretical - Drive for Knowledge
Traditional - Drive for Order
Aesthetic - Drive for Harmony/Beauty
Individualistic - Drive for Power
Social - Drive to Help People
A person's top 2 Motivators will drive their actions and strongly influence their decisions.
---
TTI Persoanal Talent Skills Inventory TM
Unique to the Personal Talent Skills Inventory is its ability to assess an individual's cognitive structure (i.e., how their mind perceives themselves and the world around them) based on their responses to the Hartman Value Profile instrument. The result is a highly accurate ranking of personal CAPACITIES describing individual potential for workplace performance.

The Persoanl Talent Skills Inventory is highly effective in coaching, mentoring and personal development. All PTSI reports are available exclusively on TTI's Internet Delivery ServiceT.
PTSI - Healthcare Version
PTSI - Emotional Intelligence Version
PTSI - General Employment Version
PTSI - Leadership/Management Version
PTSI - Sales Management Version
PTSI - Sales Version
PTSI - Customer Service Version
---
TriMetrixT System

Accurately benchmark jobs' ATTRIBUTES, REWARDS/CULTURE and BEHAVIORAL HIERARCHIES
Thoroughly assess candidates' ATTRIBUTES, MOTIVATORS and BEHAVIORAL HIERARCHIES
Match multiple candidates to job benchmarks for selection and/or personal development
The TriMetrixT System is augmented by a wide variety of RxCDs (see "Additional Products" under "Products" section on TTIed.com) that contain self-study courses as personal development resources. Reports available in the TriMetrixT System are:
TriMetrixT Job Report
TriMetrixT Job Plus Report
TriMetrixT Personal Talent Report
TriMetrixT Personal Talent Plus Report
TriMetrixT Multiple Respondent Job Plus Report
TriMetrixT Job Plus/Talent Comparison Report
---
Interactive Insights T

Today's highly effective employees are those who understand how to work with an ever-changing base of knowledge and information. However, the enormous effort needed to define and manage a talent inventory with personalized development plans often prevents organizations from moving forward. TTI's Interactive InsightsT process give organizations capability to inventory employee talents and automatically create personalized development plans that capitalize on unique individual strengths.

Interactive InsightsT includes the following reports:
Interactive InsightsT - Success Version
Interactive InsightsT - Sales Version
Interactive InsightsT - Relationship Version
Interactive InsightsT - Team Building Version
Interactive InsightsT - Motivation Version
---
Task Quotient TM

This assessment tool evaluates an employees current task alignment. TQ TM is defined as the percentage mixture of each of the 3 task types (Routine, Trouble-Shooting and Project). Each of us has a unique mixture out of a possible 496 different possibilities that defines our optimal state of motivation. There are several reports available for personal and organizational use:
- Developmental TQ T Report
- Personal TQ T Report
- Job TQ T Report

- Job/Personal TQ T Comparison Report
- Multiple-Respondent Job TQ T Report
- Sample TQ Reports
---
Managing For Success® (MFS) Software Collection
The MFS collection of reports is based on TTI's Style AnalysisT (DISC) and Personal Interests, Attitudes and ValuesT (PIAV) instruments. These well known reports present personalized textual information on individuals' behaviors, as well as DISC graphs, showing natural and adapted behaviors. Also included is a PIAV report, summarizing the "motivators" that drive people to action.

MFS reports are specifically designed for a number of targeted audiences:
MFS Communicating with StyleT
MFS Customer Service
MFS Employee-ManagerT
MFS Executive
MFS Interviewing InsightsT-General
MFS Interviewing InsightsT-Sales
MFS Personal Interests, Attitudes and ValuesT
MFS Sales
MFS Sales Strategy IndexT
MFS Team Building
MFS Time P.L.U.S.T
MFS Work Environment
Other reports based off this instrument:
EFLT Administrator
EFLT Student
EFLT Teacher
Family TalkT - Parent
Family TalkT - Young Adult
Golf Stroke Save