BRAD HARPER, EXECUTIVE DIRECTOR
Trigon Executive Assessment Center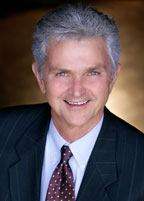 Brad Harper is one of the leading authorities on individual management development and organizational effectiveness through the management of human capital. He has conducted over 1,000 sessions with front line workers, managers and corporate CEOs over the past 20 years. He is the Executive Director of the Trigon Executive Assessment Center, a corporate consulting firm. His team of seasoned management consultants and organizational psychologists specialize in developing corporate management strategies, evaluating management candidates, designing individual leadership development programs, resolving corporate culture issues and providing business owners with tangible systems/solutions for growth.
Brad was the founding partner of Arizona 's oldest outplacement firm and is a former college placement director and faculty member. He completed both his undergraduate and graduate degrees at the University of Arizona and is a Nationally Certified Counselor and Certified Psychologist.
He is highly experienced in delivering programs on the quality of people's work lives and developed the proprietary Executive Strategic Development Program. He also serves as a behavioral consultant to both college and professional sports teams. He has worked with groups and individuals in over 200 corporations including:
AAA, American Express, Ameritech, Acoustic Technologies, ASU Foundation, APS, Athlete's Performance, Blueprints for Tomorrow, Bobcat, Brookline College, Capistrano's Bakery, CB Richard Ellis, Coastcast Golf, Commerce Realty Advisors, Dave's Car Care, Davis Architects, Dell Perot Systems, Duffy Research, General Dynamics, Gila River Health Care, Golden Door Spas, Gothic Landscape, Hereaus, Ingersoll-Rand, Intel, KB Homes, Kemper Insurance, Kimley-Horn, McKesson, Motorola, Naval Aviation Systems, NETAFIM, Newmark Grubb Knight Frank, NYPD Pizza, OpenWorks, Phoenix Suns, Procter and Gamble, ProVision Communication , Salt River Project, St. Luke's Health Initiatives, Schlumberger, Terros, Thermo King, Thunderbird School of Global Management, Tignum, TowerHunter and Washington Inventories.
An active member of the Arizona community, Brad serves on the Board of Directors of Junior Achievement and Ear Candy, a statewide non-profit agency whose mission is to provide youth access to music education, and the board of the Arizona Human Resource Executive Forum.
Target Training International (TTI) of Scottsdale , Arizona , (a research-based professional problem-solving resource specializing in the resolution of issues related to performance improvement), awarded Brad the Blue Diamond Award for outstanding contribution to the profession.